Update:
Ellen's new book "The Ketogenic Diet for Type 1 Diabetes" is now available.
In response to reader requests, here is the information on how to order both
of these books:
---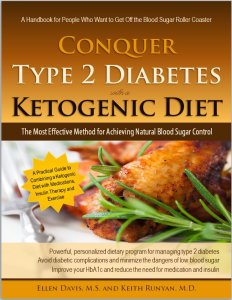 Diabetics, listen up! You now have available a new and important book authored by Ellen Davis and Keith Runyan, M.D. entitled
Conquer Type 2 Diabetes with a Ketogenic Diet
. It is second in a promising series of ketogenic diets for special conditions.
(1)
Ellen has a Master of Science degree in Applied Clinical Nutrition, and Dr. Runyan is a practicing physician specializing in obesity, kidney disease, and diabetes who is himself a type-1 diabetic. Despite their expertise and personal knowledge, they strongly advise that your personal physician be involved in review and application of information in this book.
More »