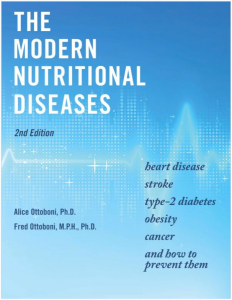 It is with great joy that I receive word directly from Alice and Fred Ottoboni that Modern Nutritional Diseases, 2nd. Edition is available for purchase from Amazon. As you may remember, the first edition of Modern Nutritional Diseases had a profound impact on my understanding of nutrition and its relationship to health. The second edition is revised and updated, and is sure to be a must have for anyone looking to get into the science behind nutrition.
It's also worth noting that Alice and Fred have been exceedingly gracious in their willingness to share their intellectual property with readers of Ketopia. Let's wish them great success with this recent edition of their masterwork!

Resources Shared by Alice and Fred Ottoboni
It is worth noting that these are in addition to their own posts and insightful commentary throughout this blog. Thank you for all you do, Alice and Fred!