Red meat has long been an anathema to the nutrition establishment. Not being privy to the thinking of the originators of the so-called heart-healthy diet, we assumed it was because of the association of meat with its burden of saturated fat and cholesterol, two food components condemned as promoters of heart disease.

Time passed and, despite considerable evidence that neither saturated fat nor cholesterol caused heart disease, red meat remained a pariah of protein foods. Several years ago, we learned that it was not just people opposed to eating animal products because of ethical or religious convictions. It also included a few highly respected biological scientists who recommended against eating red meat. They did not reject meat, only red meat aka muscle meat. With no reason given for why red meat was múscolo non grato, we decided it was just a matter of personal preference.
We learned recently from a lecture on nutrition that muscle meat has a much higher content of methionine than other parts of beef cattle, such as organ meats and structural parts. Further, methionine makes homocysteine. Miss Information enters the picture here; because everyone knows that homocysteine causes heart disease, methionine intake should be curtailed. Obviously, no more red meat! How could such perfectly good facts be so misinterpreted? What is the real story? What is methionine and why does methionine make homocysteine?
Methionine is an essential amino acid, which means it is essential for life and that human biochemistry cannot make it; therefore, it must be provided in the diet. Why is methionine essential? It is primarily because it is the sole provider of methyl groups (1-carbon units), which the body cannot make and needs in substantial quantity.
Methylation is an extremely important and always active reaction in human biochemistry. The methylation of DNA nucleotides makes possible proper functioning of cellular reproduction. It is also important in regulation of gene expression and is necessary for embryonic development. In addition to its roles in reproduction, methylation is required by such diverse functions as making many and varied kinds of proteins and protecting the body through its involvement in detoxification of heavy metals. There is no doubt that methionine is a valuable and irreplaceable nutrient.
Why does such an indispensable nutrient make such an undesirable biochemical as homocysteine? Examination of the methyl transfer cycle (see Figure below) shows that methionine has no choice. Methionine combines with the biochemical adenosine to make adenosyl methionine. This is the form of methionine that donates methyl groups. When the methyl group is removed, the adenosyl methionine becomes adenosyl homocysteine, which then sheds the adenosine group and becomes homocysteine. This is how methionine becomes homocysteine. It would make the same biochemical no matter what it was called.
Actually, homocysteine also plays a very important role in human biochemistry; it picks up methyl groups that have been removed in demethylation reactions and recycles them back to methionine.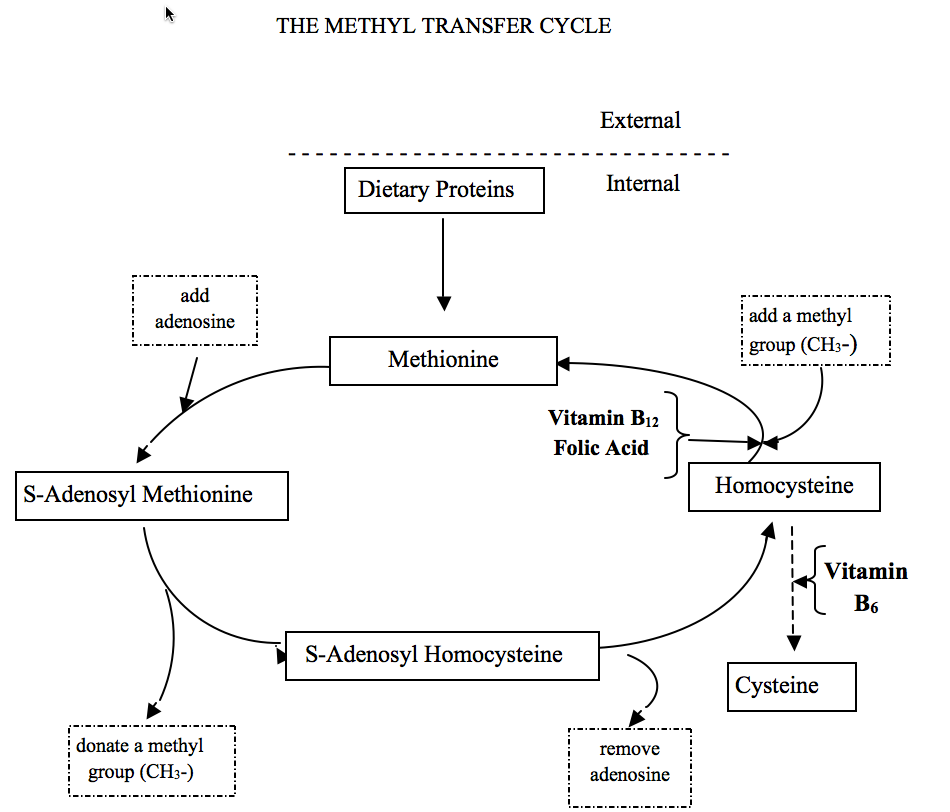 What does homocysteine do that makes it such a bad actor? Actually, it does not do anything untoward, unless it is prevented from doing its job. What is its job? Its job is either closing the methyl transfer cycle by picking up a methyl group and returning to methionine or being converted to the sulfur amino acid cysteine. What prevents homocysteine from doing its job? It is a deficiency of B vitamins, namely vitamin B6, vitamin B12, and folic acid. When deprived of these vitamins, homocysteine will accumulate to excessive levels and ultimately cause inflammation and proinflammatory eicosanoids. Otherwise, in people who eat a healthful diet, homocysteine is just one of thousands of harmless products of metabolism.
If there is a lesson to be learned from this narrative, it is that it is unwise to discuss newly found facts without first investigating their significance for human health and well being. Of greater importance than a lesson to be learned is the damage Miss Information does to scientific truth in the nutritional information imparted to the public. Miss Information has enlisted people whose nutritional advice is trusted and who should know better to support the unjustified and harmful recommendation to eliminate red meat from the diet. The question is why?