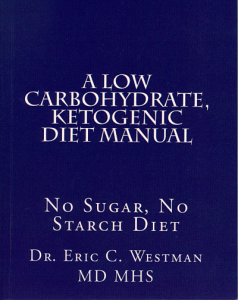 I don't think it's a secret that I'm a big fan of Dr. Westman. We've covered him a lot here at Ketopia.com, and so it's no surprise that we're going to take a look at his latest book: A Low Carbohydrate, Ketogenic Diet Manual: No Sugar, No Starch Diet.
It's a small book, so this will be a brief review. Just how small it is may, in fact, surprise you though. It's all of 24 pages in length, including disclaimers, table of contents, etc… Anything this brief will by necessity keep things to the bare minimum, especially when tackling a subject as complex as obesity and the ketogenic diet.

And this does just that. Which is ok, I suppose. While I get bummed by the fact that there's no real new information in there for people who have been practicing a low carb ketogenic diet, it's easy to see where there's value for the unindoctrinated who have just been advised by their health care providers to start a ketogenic diet.
So it's not the brevity or the superficial nature of the content that bugs me about this book. It's actually the poor attention to design that I find distracting. It looks like it was formatted on a typewritter by someone who doesn't know anything about document design for readability and usability. Granted, I'm more sensitive than most when it comes to these issues (and given my disclaimer about this site's design, maybe I should bite my tongue entirely), but the chapbook is rife with inconsistent use of headers, whitespace, bold text, etc. that could easily be addressed, cheaply. Throw in a good font selection, and I'd wager that you'd increase the usability of the book manyfold.
OK. I'm not going to harp on these issues any further. Once we move on from there, we have a very brief introduction and manual for following a low carb ketogenic diet limited to 20g of carbs a day. It introduces the Whats? and Whys? of the diet, possible side effects, recommended foods, supplements, etc… and all in short order. Before you know it you've made it through the meat of the book, and are browsing through the inspirational quotes. Here there are a few gems, including:
"It's not YOUR fault — it's the carbs' fault!"
And…
"Fruit is nature's candy."
OK, I find it a little campy… but for less than a fiver, why not?