Alert: Ellen Davis' book has been picked up by a publisher and will be available in print in Summer/Fall 2016. More information available here.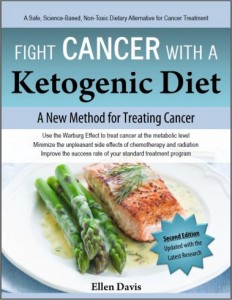 A very welcome stroke of luck brought us a copy of the eBook Fight Cancer with a Ketogenic Diet, 2nd Edition by Ellen Davis. It was a joy to read because of its timeliness, accuracy, and its clarity. It is written in a clear and straightforward fashion that could only come from the pen of a scholar proficient in nutritional science.
You will find Ms. Davis' book far more instructive than the 5-star-only-diet-book-you-will-ever-need volumes on amazon.com or the well-touted, best selling diet books in book stores. Ms. Davis' book is available on an informative website dedicated to helping people regain health through ketogenesis (www.ketogenic-diet-resource.com).

Fight Cancer with a Ketogenic Diet is not an academic exercise in what a ketogenic rendition of an anticancer diet should be. The information is firmly based on the science and research of Dr. Thomas Seyfried, who proposes that cancer is a metabolic disease, and on consultation with both Drs. Seyfried and Dominic D'Agostino on design and implementation of a ketogenic diet. Sound biochemical and physiological sciences support the book's explanations and recommendations.
The goal of this eBook is to help people affected with cancer utilize a ketogenic diet to manage the disease and better tolerate chemotherapy and radiation protocols they may face. It provides a complete resource for planning a ketogenic diet; however, it is not intended to be a self-help book but rather an adjunct to the care, treatment, and monitoring of progress on a ketogenic diet provided by the attending physician.
Chapters 1 and 2 discuss what a ketogenic diet is and how it works. Chapter 3 provides detailed information about who should NOT follow a ketogenic diet. The latter information on contraindicated metabolic and health conditions and contradicted medications is not readily available in popular diet books advocating low- or no-carbohydrate diets.
Chapter 4 mentions specific issues related to use of a ketogenic diet in cancer treatment. It discusses goals, benefits, potential side effects, and monitoring progress of treatment. Chapter 5 discusses the details of planning a ketogenic diet, including the contribution of the macronutrients plus a section on fasting and intermittent fasting. The section on macronutrients includes definitions of saturated, monounsaturated, and polyunsaturated fats. This book's acknowledgment of the importance of the inflammatory properties of omega-6 fatty acids and advice that the omega-6 and omega-3 in the diet should be balanced are worthy of note. To our knowledge, there are no popular diet books that mention the nutritional requirements for essential fatty acids. Imbalances in the ratio of omega-6 to omega-3 could negate the benefits of a ketogenic diet.
Chapter 6 continues with advice on customizing the diet, foods that are allowed or disallowed, meal preparation, and how to follow the diet when away from home, such as restaurant or travel dining. Chapter 7 presents a number of diverse topics of great practical importance especially to a cancer patient but seldom mentioned in popular diet books: alcohol consumption: how to handle incidental illnesses; sick days and menstrual cycles; stress; exercise; acidity and alkalinity; and vegetarianism. Finally there are 12 appendices that provide convenient worksheets and a wealth of advice and information that will save many telephone calls, and trips to the library or internet.
Apart from valuable information specific to the use of ketogenesis in treatment of cancer, the entire book useful for anyone interested in nutrition. Fight Cancer with a Ketogenic Diet is highly recommended as a resource for anyone pursuing ketogenic nutrition to fight any chronic disease, not just cancer.
Fight Cancer with a Ketogenic Diet is also highly recommended for people in good health who want protect their health and prevent disease. The ketogenic diet is an anti-inflammatory, healing diet. Thus, it is also a primary prevention diet. Prevention of inflammation is basic to prevention of noninfectious chronic diseases including cancer.